International Conference on Research in Economics and Social Science, Shiga University (RESSU)
---
Updates:
CALL FOR PAPERS 2019 RESSU
The RESSU cordially invites international scholars to submit a paper for presentation at the 3rd International Conference on RESSU in Hikone city on November 28-29, 2019. We especially encourage both theoretical and empirical research paper submissions on this year's special theme "Exchange Rate, Capital Flows & Trade Flows". We are honored to announce two distinguished keynote speakers for this year: Professor Yin-Wong Cheung and Professor Rasmus Fatum. As it has been one of our goals, since the 1st RESSU conference, to keep our doors open to the wide range of social science fields, we also welcome research papers on any topics in Economics and the broader social sciences.
Keynote Speakers: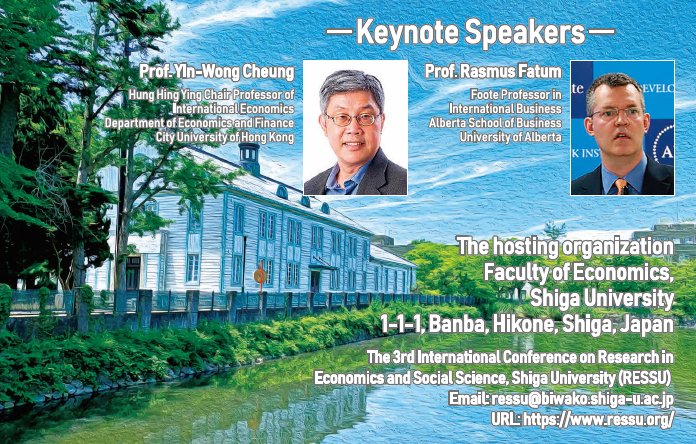 Professor Yin-Wong Cheung (City University of Hong Kong)
Professor Rasmus Fatum (University of Alberta)
The Conference Theme of the Year 2019:
"Exchange Rate, Capital Flows & Trade Flows"
We welcome submissions on the following and related topics:
Exchange rate regimes and monetary policy
Portfolio flows and foreign direct investment
The effect of exchange rate on economy
Financial crisis and sovereign debt crisis
Trade balance (and imbalance)
Trade conflict and trade wars
Global value chains
Important Dates:
Submission Deadline: August 31, 2019
Notification of Acceptance: September 15, 2019
Conference dates: November 28-29, 2019
Paper Submission Instructions for Authors:
Each author is required to submit a full paper in pdf format. A nearly completed paper will also be considered for presentation, but preference will be given to full papers. Please include a cover page indicating the name, title, affiliation, complete postal address, e-mail address, telephone number and fax number of the author(s). On the cover page, please also include the abstract and keywords of your paper.
The paper should be e-mailed to the address below:
Prof. Yushi YOSHIDA (Conference Chair), The 3rd International Conference on Research in Economics and Social Science, Shiga University (RESSU) ressu@biwako.shiga-u.ac.jp
Papers will be selected by the conference committee members. Notification about the decision will be made by September 15, 2019. (tentative)
Honorable Members of Conference Committee:
Prof. Kosuke AOKI (Unviersity of Tokyo);Prof. Yin-Wong CHEUNG (City University of Hong Kong and University of California, Santa Cruz); Prof. Hiro ITO (Portland State University); Prof. Eiichi MIYAGAWA (Kobe University); Dr. Yasuhiro SAKAI (Emeritus Professor of Shiga University); Prof. Mototsugu SHINTANI (RCAST, U of Tokyo); Prof. Akimichi TAKEMURA (Dean of Data Science, Shiga University)
Local Members of Conference Committee: (Faculty of Economics, Shiga University)
Prof. Yun-Ju Chen, Prof. Karl HEDBERG, Prof. Naoki KASAI, Prof. Kentaro KIKUCHI Prof. Atsumasa KONDO, Prof. Yuka MATSUDA, Prof. Kayoko MISAKI, Prof. Koichiro MORI, Prof. Akihiro NODA, Prof. Yushi YOSHIDA
All papers will be subject to a blind review process. The submission of a paper for review means the author certifies that the manuscript is not copyrighted, and has not been published elsewhere. Further, accepted papers will be included in the online conference proceedings only if at least one author registers and attends the conference.
Please keep in mind that a contributor may not present more than one paper at the conference, but can be a co-author of another paper presented by other contributors. We also ask all participants to be a discussant of another paper in a related field.
Conference Registration Fee:
The Registration fee of 20,000JPY includes: Bus tour to a Japanese sake brewery & conference dinner (1st day), two luncheons, coffee & tea, and admission to all conference sessions. A discounted registration fee of 5,000JPY is available for full-time graduate students (conference dinner not included).
Partial financial support for international traveling:
The number of financial support is limited; however, Ph.D student & junior faculty member presenters can apply for 30,000JPY as partial reimbursement for international flights.
Call for Papers (PDF, Flyer version)
Call for papers (PDF, longer version)
Faculty of Economics, Shiga University
---
Previous RESSU Conferences
2018 RESSU (2nd @Kyoto, jointly organized with 13th ICAFM)
Photos from the 12th ICAFM (January 2017) conference
---
ABOUT US
The RESSU (Research in Economics and Social Science, Shiga University) was established informally as conference committee consisting of faculty members in 2016 for strengthening the Faculty of Economics' commitment to research in economics and social sciences. To achieve one of its own goal of interacting with scholars overseas, the RESSU has organized several international conferences in the past few years, including the 12th International Conference on Asian Financial Market (ICAFM) in January 2017 jointly with Nagasaki University and Southwestern University of Economics and Finance. Celebrating a newly launched faculty of Data Science on the same campus on April 2017, the RESSU initiates to organize the 1st International Conference RESSU in November 2017 and the second RESSU (jointly with Nagasaki University) in 2018. The RESSU plans to meet once annually on the regular basis. The RESSU conference welcomes both theoretical research papers and empirical research papers on any topics in Economics as well as in the broader social sciences. We strongly encourage international scholars to submit research papers in the fields chosen as special topics of the year.
---
Photos: Lake Biwa (from Matsubara beach), the University Hall in the Oldest Building, 410 years-old Hikone Castle